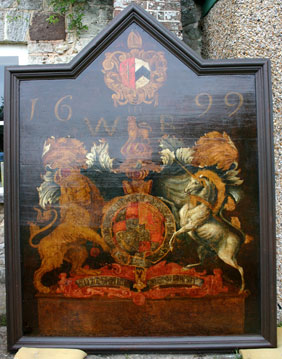 St. Olaves Church, Exeter – 17th century Royal Arms
We have worked on a number of royal arms painted on wooden boards set within a frame. The work generally involves the removal of discoloured varnishes, Consolidation of flaking paint, retouching losses and re-varnishing.
Polychrome Wood
Painted timber is found in a variety of situations - from large cathedral ceilings to domestic screens. We have worked on numerous schemes, some executed in oil, others in size-based medium. Projects often involve collaboration with timber conservators and dendrochronologists as well as art historians and archaeologists.
Click on a link below to read more:
---