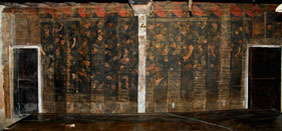 Ciliau, Llandeilo Graban – 16th century wall painting on the screen in the hall. Size bound paint.
The painting on the screen is an exceptional example of 16th century domestic wall painting, giving the illusion of a hanging behind the bench. We removed the remains of overlying lath and plaster and cleaned and consolidated the paint layer
Polychrome Wood
Painted timber is found in a variety of situations - from large cathedral ceilings to domestic screens. We have worked on numerous schemes, some executed in oil, others in size-based medium. Projects often involve collaboration with timber conservators and dendrochronologists as well as art historians and archaeologists.
Click on a link below to read more:
---