St. Michael's Church, Raddington.
This idyllic one cell church has no road access and no electricity. Investigations of the painted surface in 2010 revealed evidence of two phases of text panels painted onto the walls, which had since been painted over. McNeilage Conservation uncovered and conserved three charmingly embellished text panels dating from the late 17th century.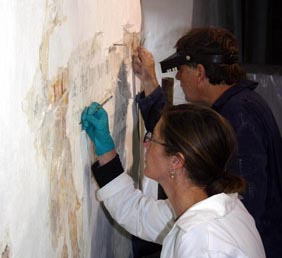 Wall Paintings
McNeilage Conservation are recognized specialists in wall painting conservation with extensive and wide ranging experience both at home and abroad. Projects have included both domestic and ecclesiastical schemes on a variety of supports including plaster, wood and stone dating from the 12th to the 19th century.
Ecclesiastical wall painting projects:
---