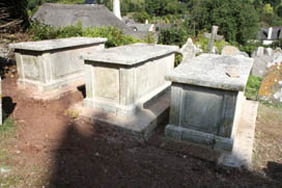 These three listed tombs had partially colapsed due to adjacent tree growth, failure of fixings and ground settlement. They were dismantled, repaired and rebuilt after tree roots were eradicated and ferrous fixings were replaced.
Below: removing a particularly persistent sycamore sapling;
Bottom: using a crane to remove the large slab.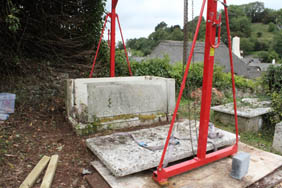 Church Monuments
We are specialists in the repair and conservation of church monuments, ranging from medieval effigies and tombs to nineteenth century marble cantilevered monuments. Work may include dismantling and structural repair, relocation and isolation or analysis and stabilisation of polychrome surface layers.
We also undertake repairs to external churchyard monuments, including major structural dismantling and rebuilding projects.
Click on the link below to read more
---